Our 2020 Partner Agencies! 
Below is the list of our 2020 Partner Agencies as well as some answers to questions some donors often have about our partners.  Partner Agency Agreements are renewed in the first quarter of each year. This page will be updated in April of each year, reflecting our most current Partners. 
What Does it Mean to be a United Way Partner Agency?
Partner Agencies are agencies that applied and were granted funding for a specific program. It is important to note that the policy of United Way funds programs, not agencies as a whole. 
That approval is determined through an application review and interview process, led by the United Way Community Investment Committee and multiple community volunteers.  The United Way Board of Directors has the final approval of grant allocations based on the budget. All decision makers are community volunteers. 
Who Can Apply to be a Partner Agency?
Any LOCAL organization that maintains nonprofit status, that provides programs/services related to education/health/financial stability to local clients, and that completes our annual application process, including the submission of financial statements and documents. To learn more about applying to be a partner agency, please contact director@unitedwayfc.org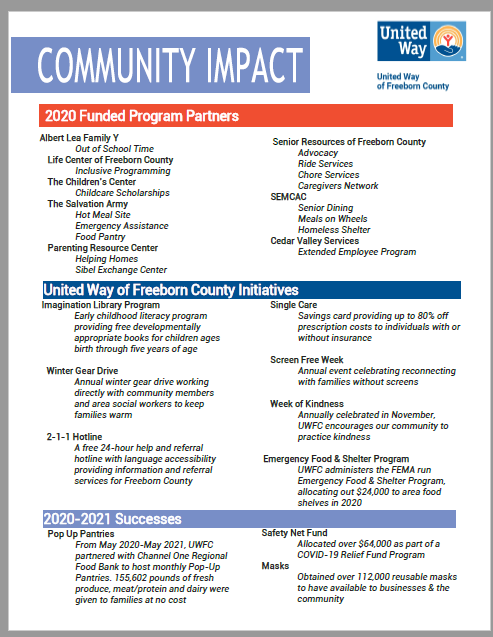 2020 Partner Agencies
Life Center of Freeborn County 
 
Senior Resources of Freeborn County